PusPam Parudeesa : The Blooming Backwaters of Kumarakom Lake Resort
What an arresting experience it is to wake up to a fleecy cluster of cotton clouds at Kumarakom on a crisp October morning! The sun is pleasant and playful, yet strengthens the sensation of an illusion, as the fleecy clouds move freely across the blue vastness shadowing its rays only momentarily. The air is efflorescent, vapour-liden, and dizzy with the concentrated scent of bloom. It feels somnolent and cool, as it rests in its temporary reprieve, eclipsed from its characteristic heat and radiance. The time is ripe for an immersive escapade through the enchanted lands of Kumarakom Lake Resort, Kerala, India's finest luxury heritage property that lured King Charles III.
The Season of Bloom: Malarikkal Water Lily Fest
October ushers in the annual blooming season with acres of paddy fields in Malarikkal, Kerala's Kottayam region, basking in its pink carpeted hue of countless waterlilies. Only recently after snaps and snippets depicting the picturesque landscape found its way into the varied channels of social media platforms, numerous tourists have started storming the otherwise secluded and solitary landscape of Malarikkal to witness nature's bountiful bloom.
An age-old phenomenon involving the manual displacement of flowers in order to turn the fields conducive for cultivation has rapidly been appropriate to suit means of reaping dividends. Locals are found chattering away with the visitors as they invite them on meandering boat rides through the lilies atop their lean canoes or selling fresh bouquets of bright flowers in exchange for a small fee.
Experiencing Nature's Bounty at Kumarakom Lake Resort
October marks the onset of the blooming season in Kerala and is marked by an accelerated influx of globetrotters in pursuit of experiencing the slice of paradise from close quarters. Bookings are advised to be made in advance in order to ensure a seamless and indulgent luxury experience at the exotic Vembanad Lake resort.
The Festival of Blossoms finds its way to Lake Vembanad, of Kumarakom Lake Resort with its green carpet of water hyacinth, which is found swaying to the rhythm of the wind for most part of the year, slowly transforming into a bright bed of wild water lilies. Nature's Pookkalam, as though celebrating the last lingering essence of the annual harvest festival.
The weather is ideal for exploring the myriad of luxurious facilities and outdoor activities offered by the resort. Revive your senses as you explore the plethora of on-premises scenic attractions, including meandering swimming pools connected by graceful overhead bridges, wooden sun decks that provide stunning vistas of the South's longest lake, stone-lined pathways winding through lush foliage reminiscent of tropical forests, adorned with natural springs, water lilies, and a lively congregation of geese.
In case, staying indoors suits you better, the resort offers a variety of opulent villas with picturesque views of the lake and pool, as well as exquisite deluxe rooms that seamlessly blend traditional culture with modern aesthetics. Known for its outstanding hospitality and luxurious amenities, the resort provides open showers, jacuzzis, private pools, and beautifully landscaped gardens to enhance the guest experience.
While the serene backwaters may appear somber and solitary, decked in its pompous coat of pink, adventure awaits those who crave excitement. Engage in exhilarating cycle rides through the picturesque countryside, embark on guided tours to explore the protected bird sanctuary and Kumarakom village, and partake in canal cruises aboard a canoe- options for outdoor activities appear in abundance.
Lake Vembanad's Ophileatic October Opulence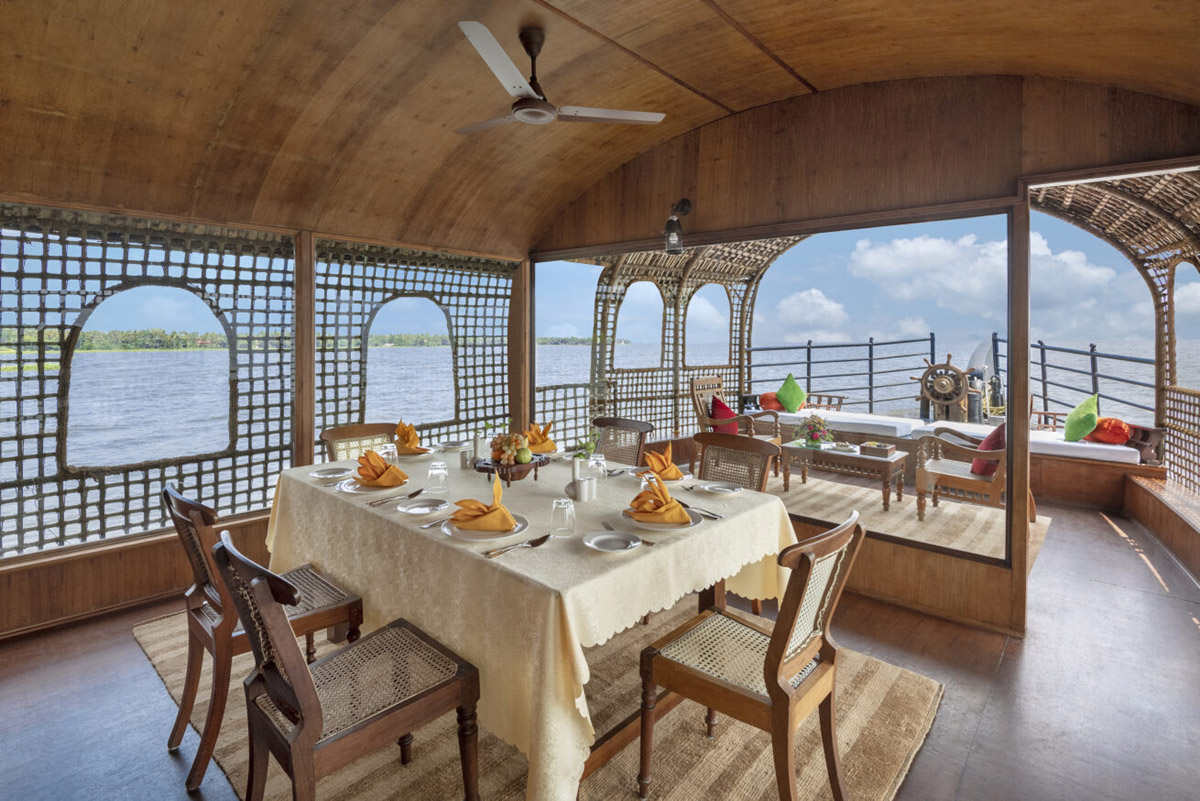 Decked in a fresh cloak of bright blush, the vastness of Vembannd is a sight to savor, as you sip on some authentic traditional tea and local snacks at Thattukada. Traditional houseboats, locally referred to as kettuvallam, are iconic symbols of the picturesque coastal state of Kerala and its renowned backwaters, can be spotted gliding through the water lily-clad lake.
At noon, guests can opt for captivating lunch cruises on these opulent private houseboats. Savor an authentic dining experience customized to your palate, featuring regional delicacies, fresh seafood, and international favorites, all accompanied by exquisite beverages skillfully crafted by their award-winning in-house mixologists.
Immersive Spa Experience at the Ayurmana Spa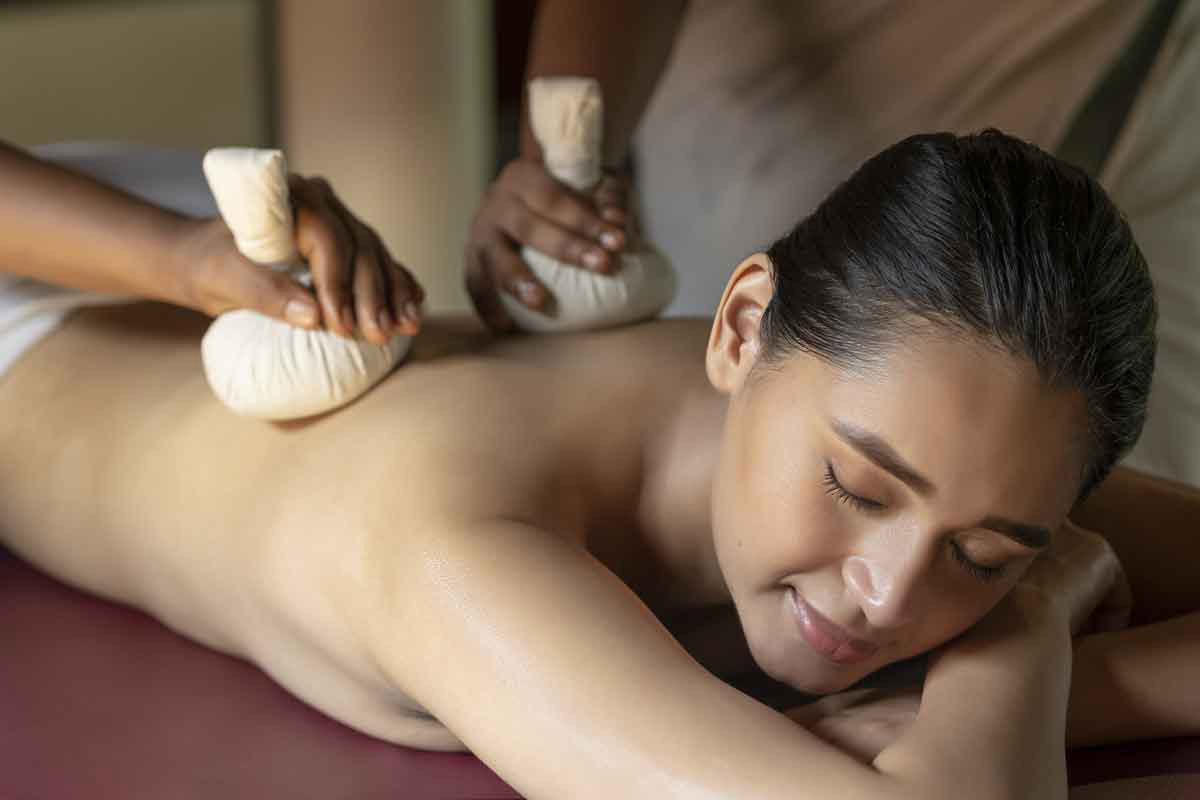 Guests can choose to explore the numerous healing experiences at the Ayurmana, a sanctuary of age-old Ayurvedic healing and spa at Kumarakom Lake Resort. Its iconic 'Nalukettu,' a traditional four-sided thatched roof adorned with wooden hulls, has been meticulously relocated to its current site with acute attention to every detail.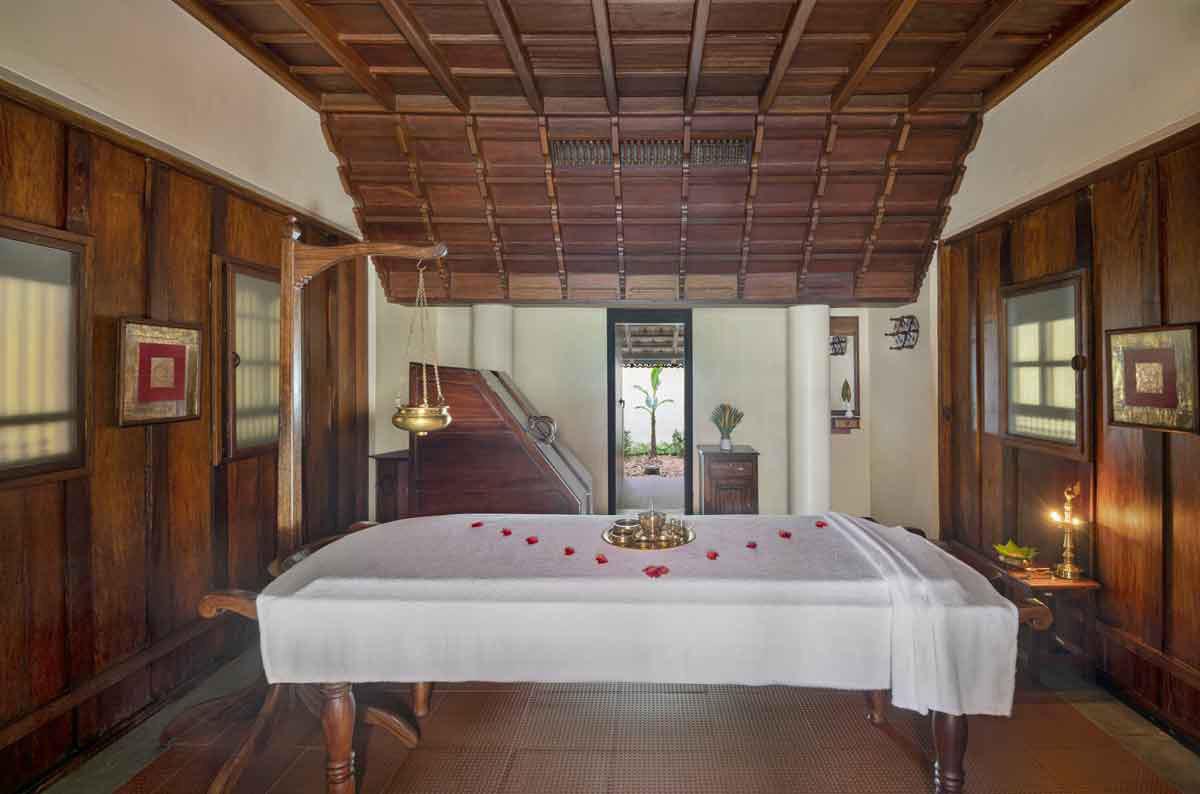 The Ayurmana was once the residence of the esteemed Chathamangalathu Mana family, known for their expertise in Ayurvedic practices. Their timeless knowledge of ancient sciences is preserved through the diverse therapeutic spa treatments available at this heritage retreat.
Exclusively Curated Culinary Experiences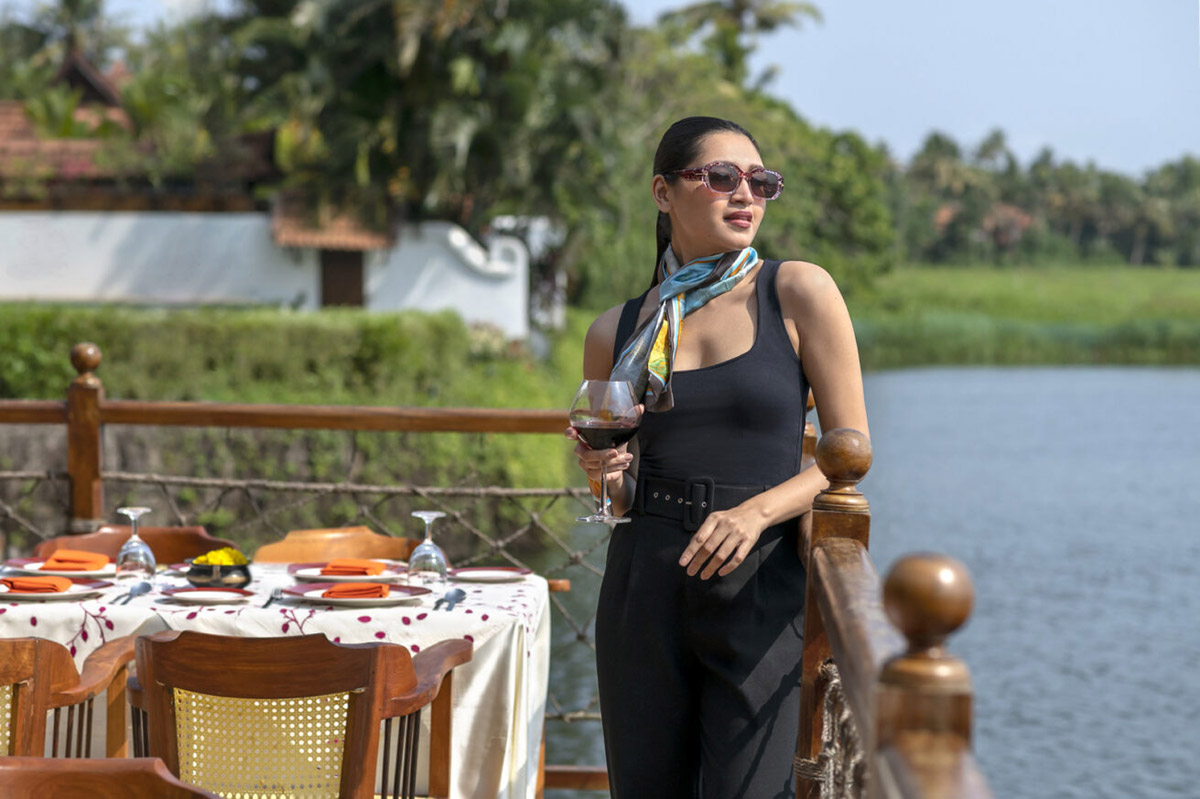 Apart from the delectable offering of local delicacies at the traditional tea shop, Thattukada, and the extravagance of the culinary cruise atop the exclusive kettuvallams, the luxury property of Kumarakom Lake Resort offers an array of authentic eateries serving the best of seafood, local, and global cuisines.
Ettukettu, the multi-cuisine restaurant, is as revered as a center for culinary experiences as it was historically celebrated as a center for martial arts. Originally commissioned by King Marthanda Varma as a gift to his martial arts tutor, it showcases the opulence of ancient Kerala's architecture. Relocated from its original site, it is now dedicated to culinary arts.
At Vembanad, the seafood bar with a view of the expansive backwaters, guests can savor a selection of delightful local Keralan seafood dishes while enjoying their preferred drink. Witness a mesmerizing sunset as the sun gracefully dips below the distant horizon where the sky meets the vibrant expanse of Lake Vembanad.
The Pool Pavilion at Kumarakom Lake Resort, perched by the infinity pool overlooking the lake, provides an intimate dining experience with limited tables. Guests are advised to reserve their spot to ensure a surreal dining experience set against a serene natural backdrop.
As the vibrant saffron yolk of a sun nestles by the far horizon around twilight, the Kumarakom Lake Resort is gifted with a flushed cloak of its own, shining bright under the rays of the setting sun. The sky, the lily-clad lake, and the resort collide into a spectacle in unison that burns into the senses of the onlooker- a sight to be seen, savored, and soulfully surrendered to.