A Romantic Getaway in Kumarakom - Kumarakom Lake Resort
By Wandering Coffee Girl, Maldives, May 29, 2019
Are you planning to experience the backwaters of Kerala and searching for the perfect accommodation? If so you are at the right place! Keep reading and you will know why.
Kumarakom Lake Resort won a great number of major awards and also was featured on BBC as "one of the most luxurious holiday destinations in the world". Many famous personalities have stayed at this hotel including the Royal Highnesses Charles, Prince of Wales and Camilla, Duchess of Cornwall.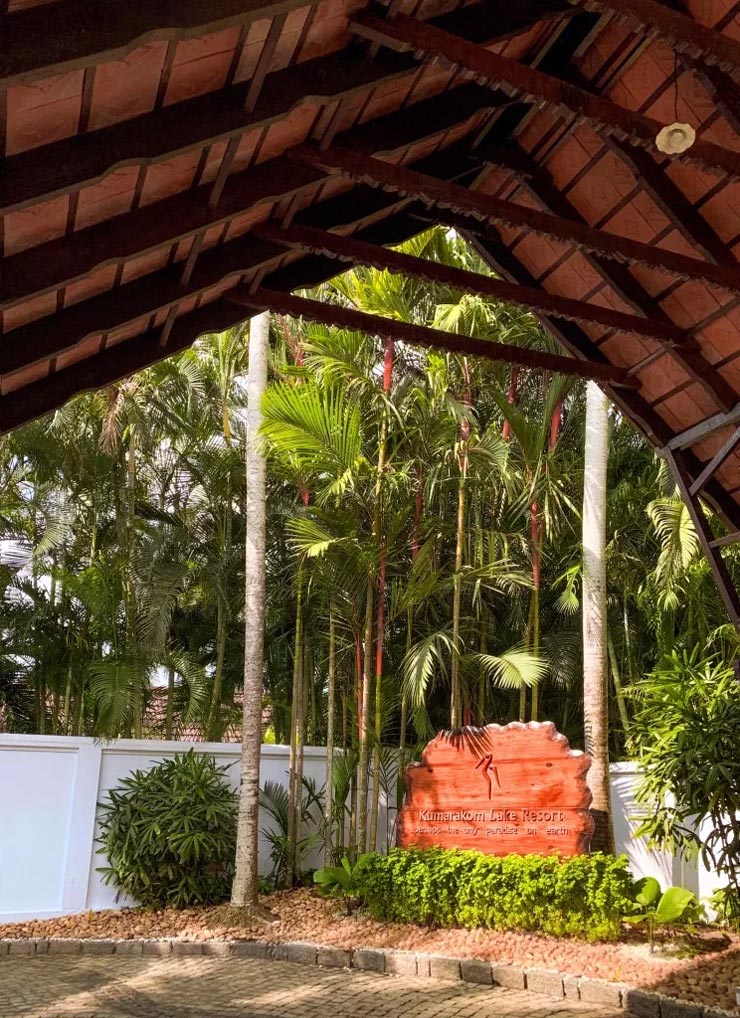 Location & Getting Here
Kumarakom Lake Resort is located at Kumarakom Village which is set on the banks of the Vembanad Lake. The resort offers airport transfer from Cochin International Airport for an additional cost and the journey will take around 1 hour and 40 minutes. If you are traveling from Trivandrum International Airport the ride will take around 3 hours depending on the traffic.
We started our journey towards Kumarakom Lake Resort from Forte Kochi Hotel. Both properties are part of the famous The Paul Resorts & Hotels chain. The journey took around 1 hour 20 minutes. Upon arrival we were welcomed in traditional Kerala style and were given fresh coconuts to sip while we checked-in.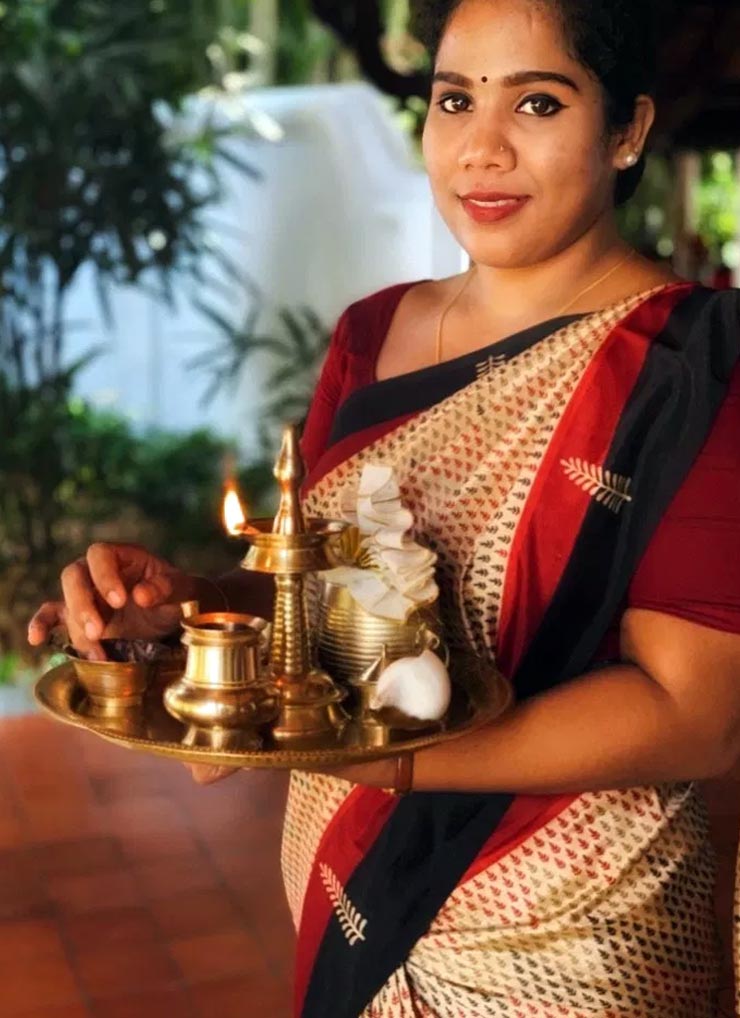 The Room
We stayed in a Heritage Garden Villa. Other options include Presidential Suites, Heritage Lake Villas, Meandering Pool Villas, Luxury Pavilion Rooms and the House Boats. The Heritage rooms are authentic traditional Kerala houses which were dismantled and carefully restored keeping all its original elements few changes were made to make it for comfortable and modern. It is the perfect blend of traditional charm and modern comfort.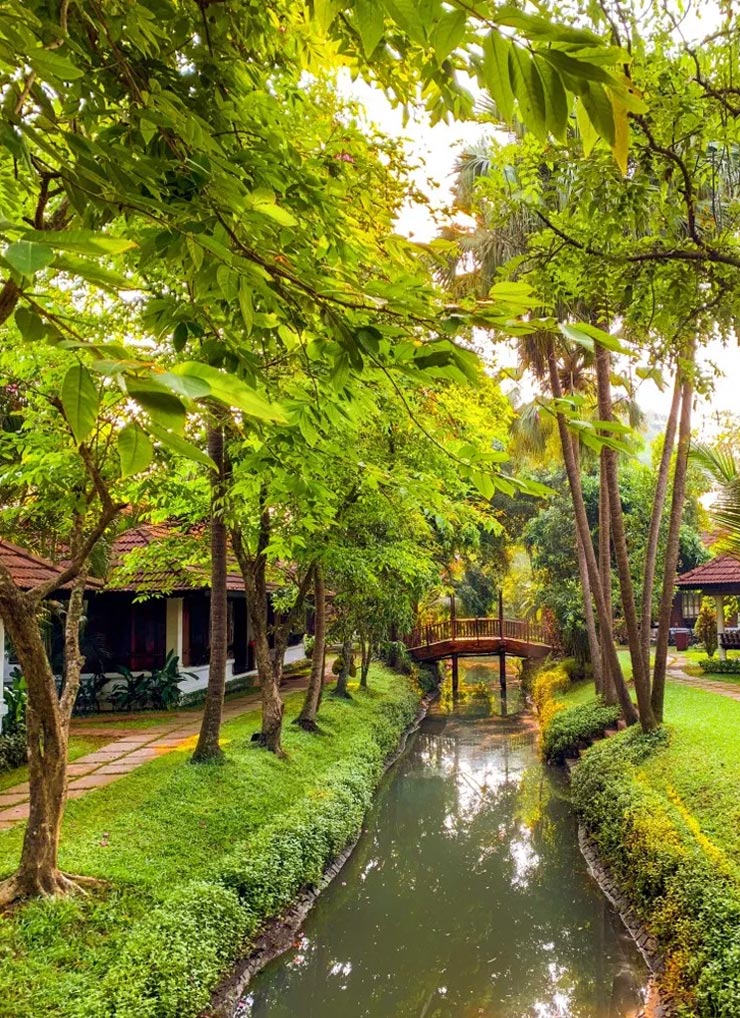 Our villa was surrounded by lush greenery. The entire ambiance was perfect.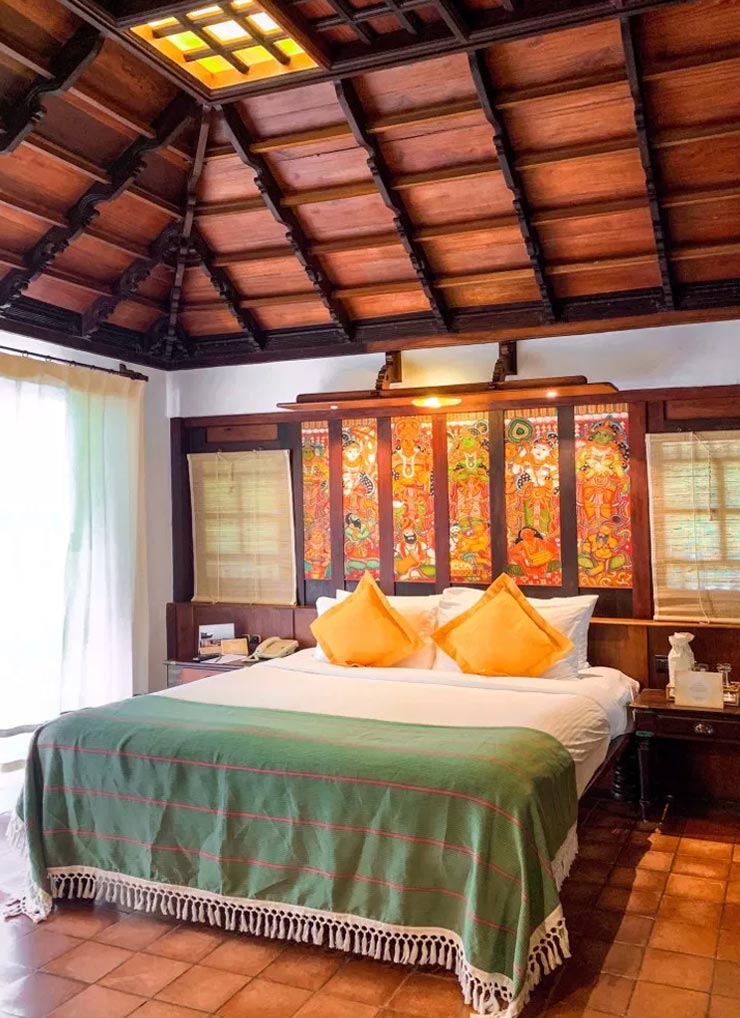 The interior of the room was nothing short of grand - wooden look everything. In Kerala wood is given utmost preference for the interiors as it is regarded as the finest material for home decor which is so versatile that it can never be outdone by any material in look or durability. My favourite part about the interior is the ornately carved wooden ceiling and the colorful traditional painting.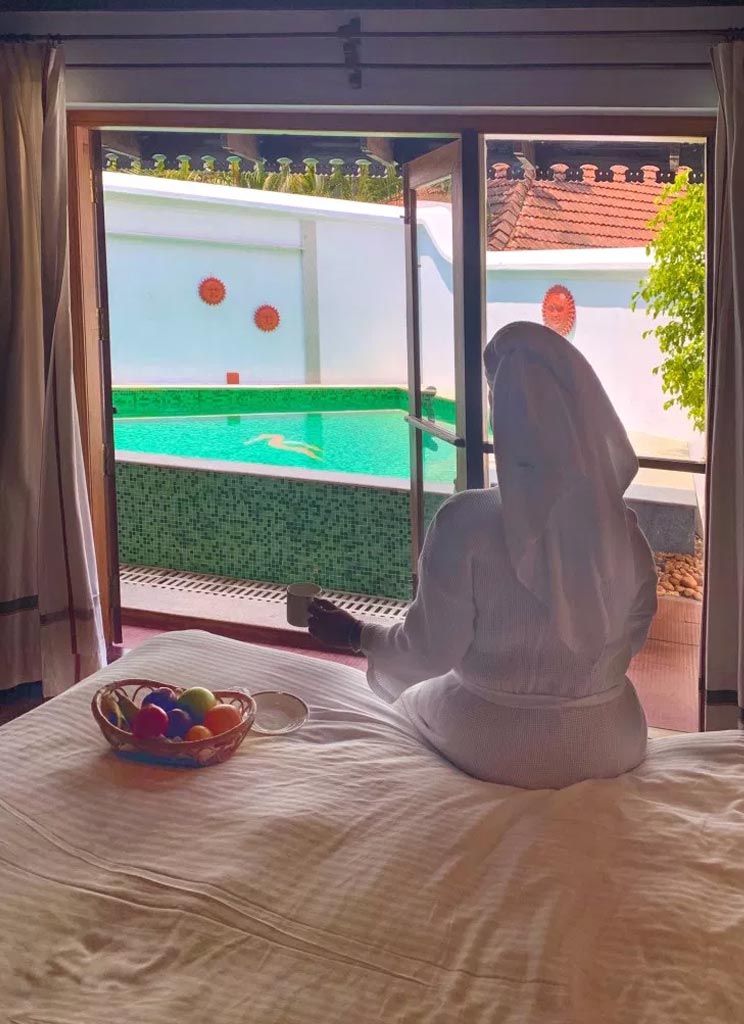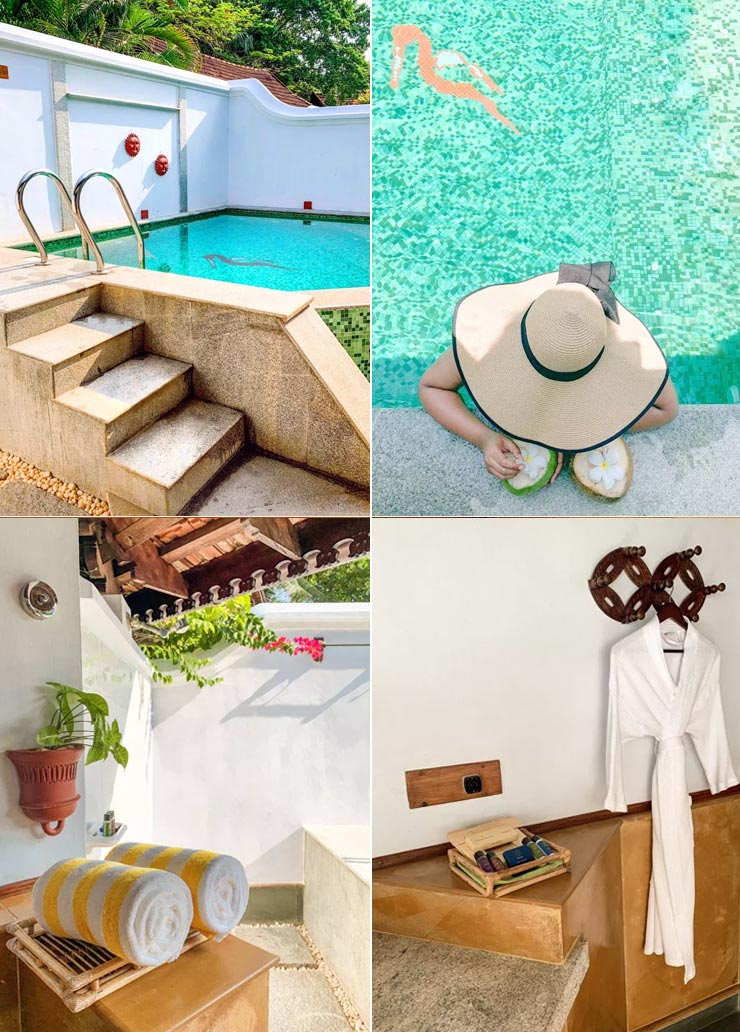 The private courtyard in our villa had a Jacuzzi pool attached with an open air bathroom.
If you want to experience how it feels to spend a night or two in traditional kettuvalloms you should book the houseboat. Click here to read more about the houseboat. Due to our tight schedule we were not able to stay in a houseboat and instead we opt for a backwater boat ride. Staying in a houseboat is something I would love to experience and will definitely choose Kumarakom Lake Resort because there is not doubt that they will make it an unforgettable experience.
Things To Do
Backwater Boat Ride
The backwaters have always been the symbol of Kerala and a ride in the backwater is a uniquely different experience that must not be missed. We started our 2 hour journey at 12 PM and were mesmerized from the moment we started our journey.

Infinity Pool
After enjoying some private moments in the private pool you can enjoy a dip in the infinity pool overlooking the Vembanad Lake.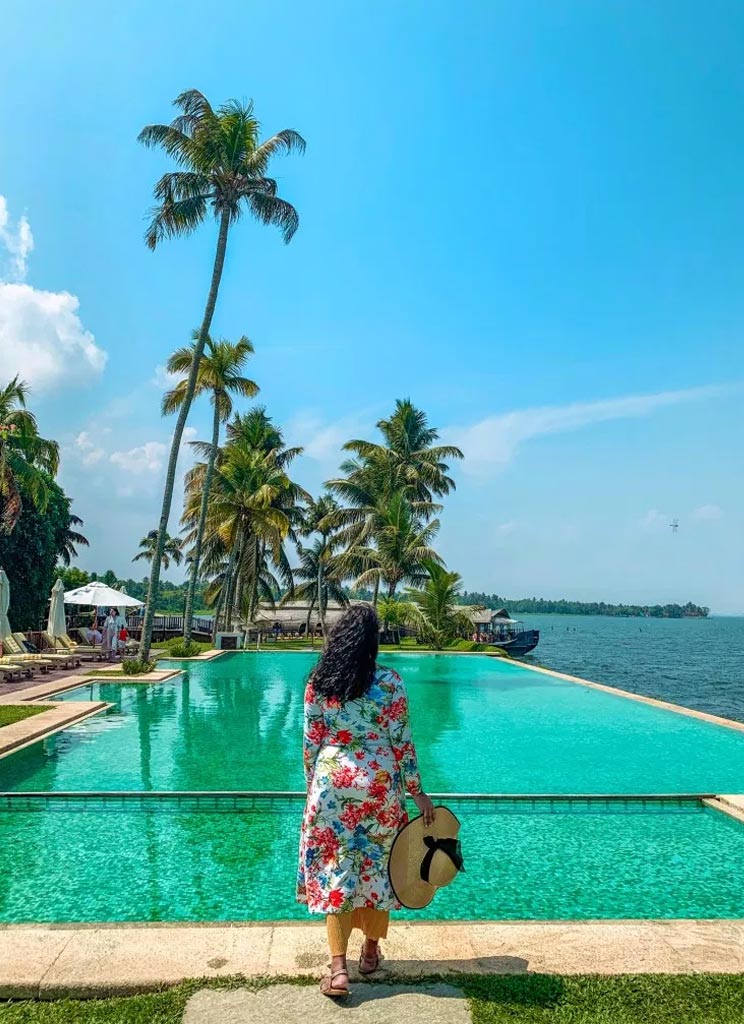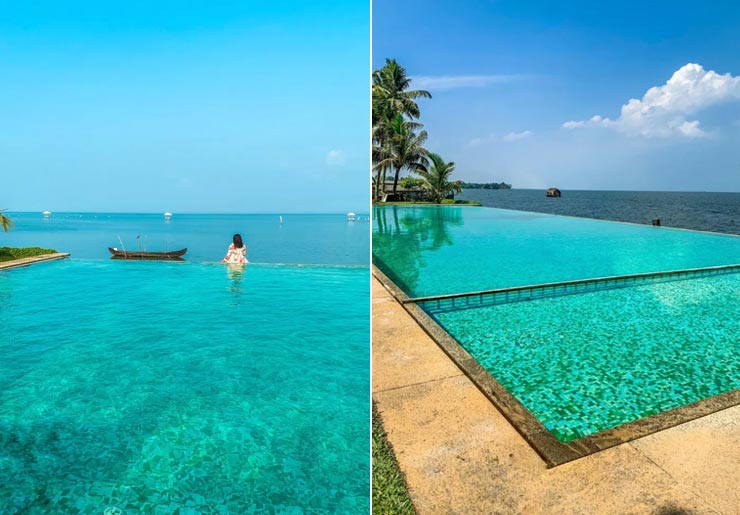 Evening Tea at Thattukada
Thattukada is a roadside tea shop which sells street food of Kerala. The resort has setup a traditional Thattukada inside the resort. It's the perfect place to spoil yourself with an authentic Kerala style evening tea experience.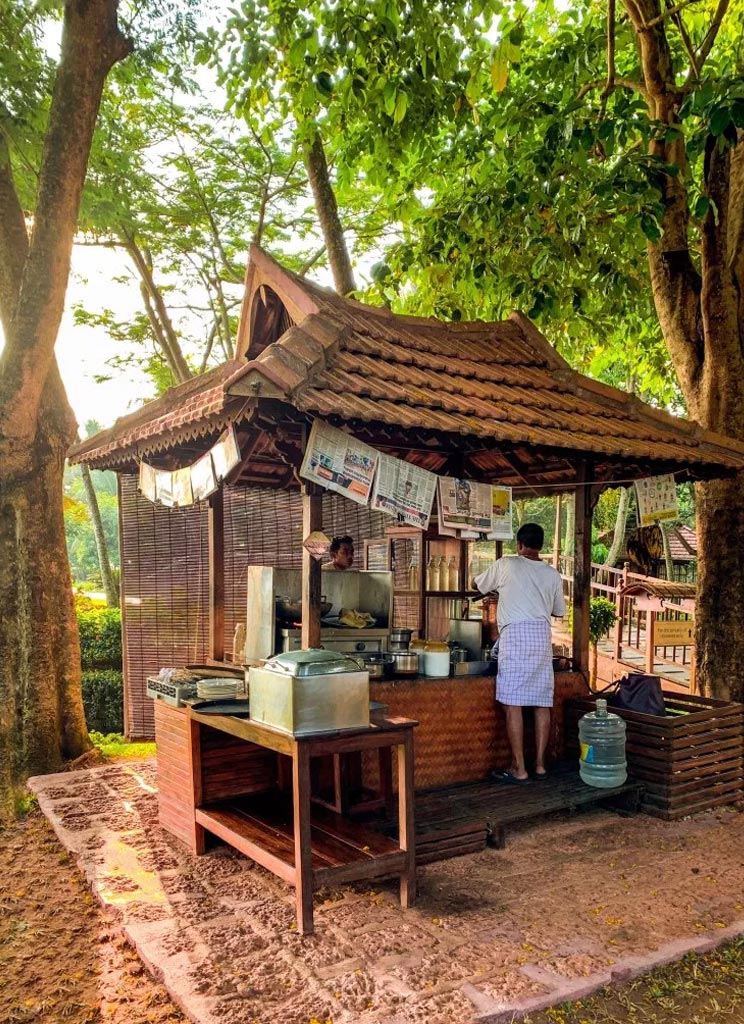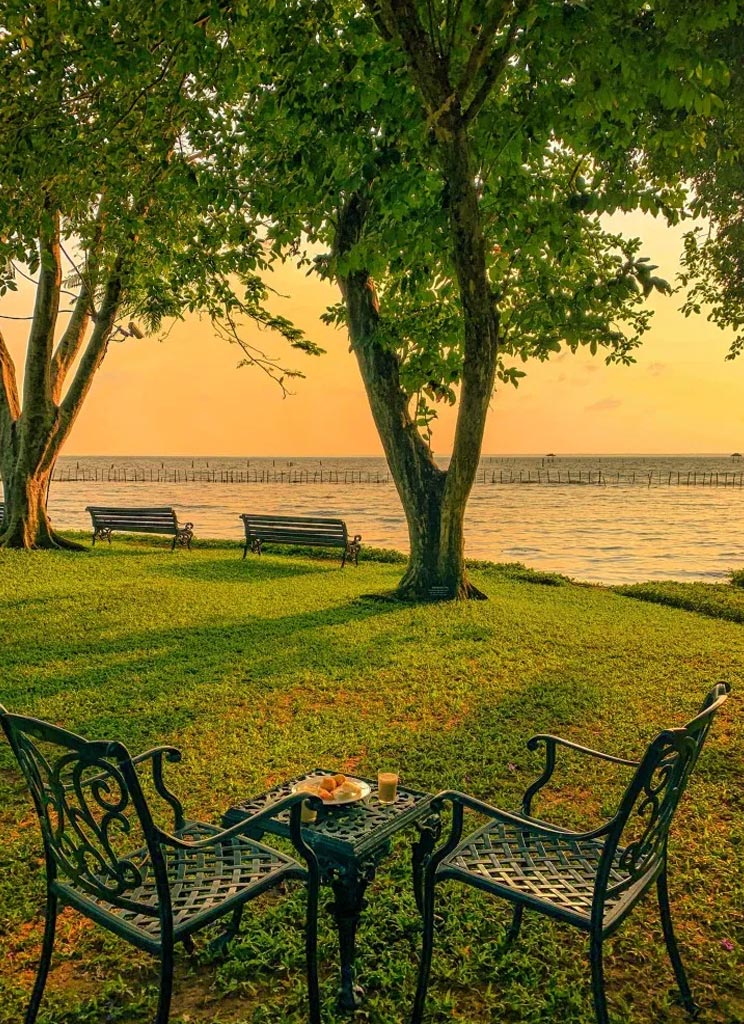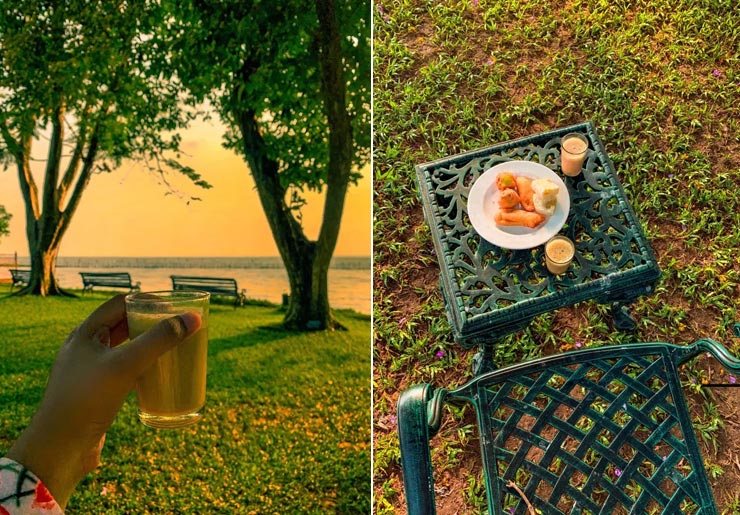 Sunset Cruise
The resort offers complimentary one hour sunset cruise in Vembanad Lake which is the longest freshwater lake in India. It was the perfect and the most peaceful way to end the day. In addition to the beautiful backdrop there was live music and the sound of nature to entertain us.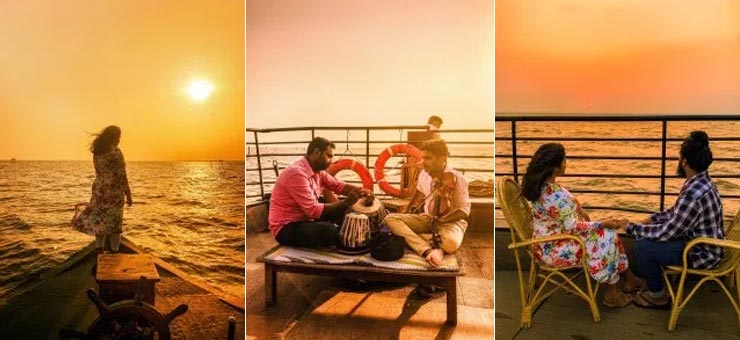 Do Nothing
Yes, do nothing. There are many perfect places in the resort that is perfect to do nothing except for enjoying the view and the calmness. Or you can read a book or enjoy a conversation with your loved ones.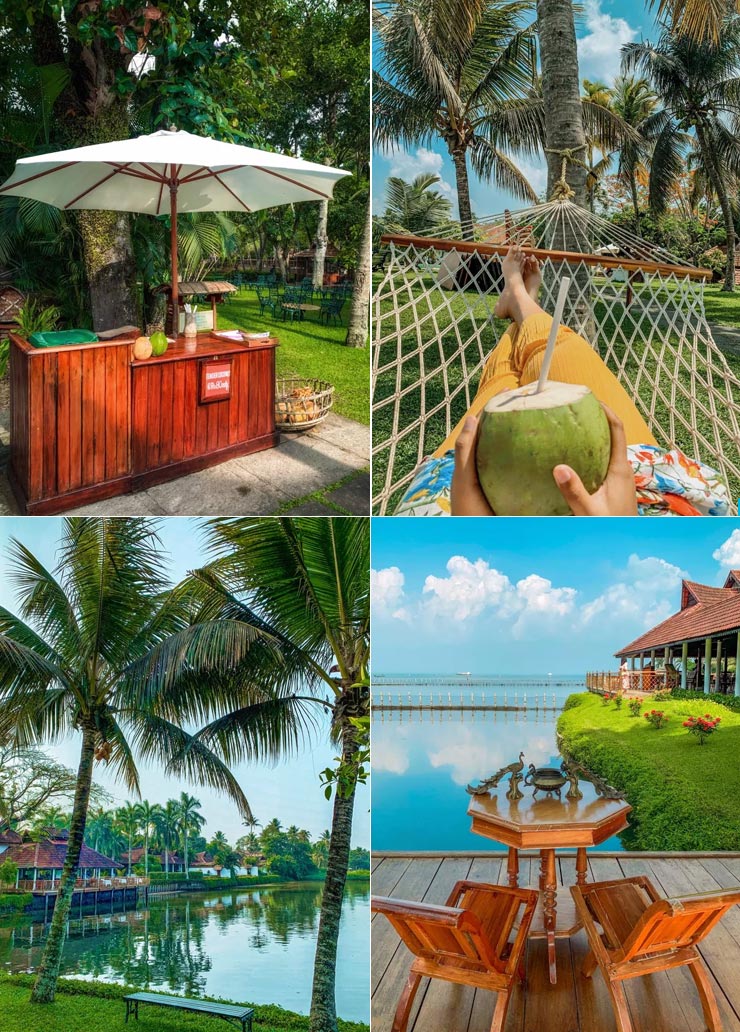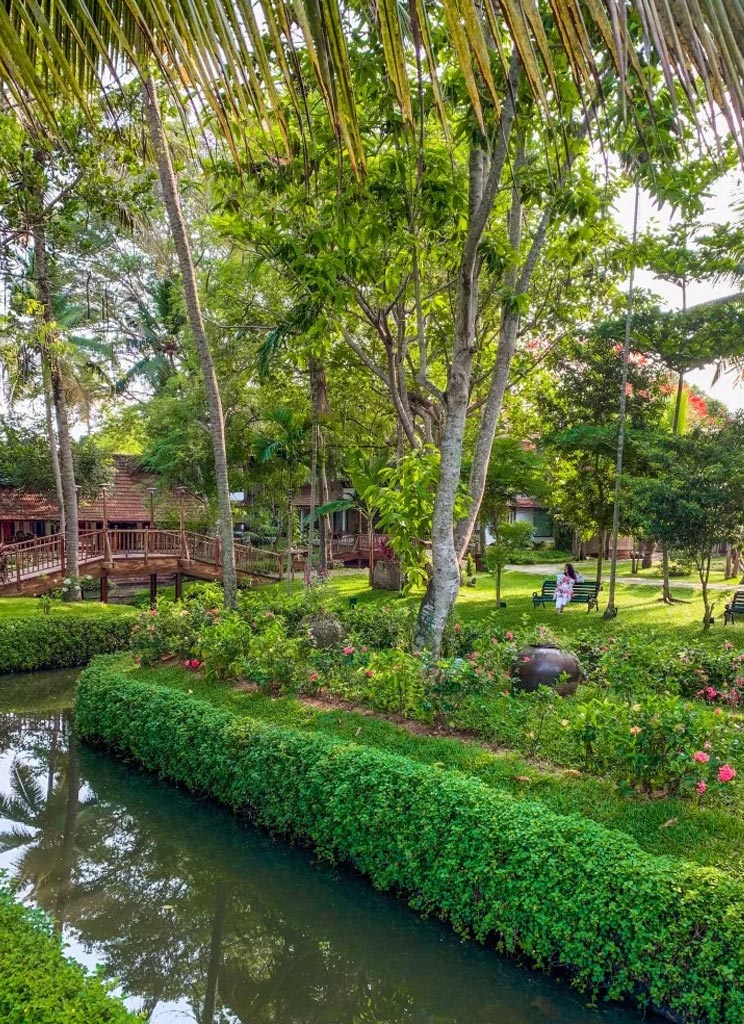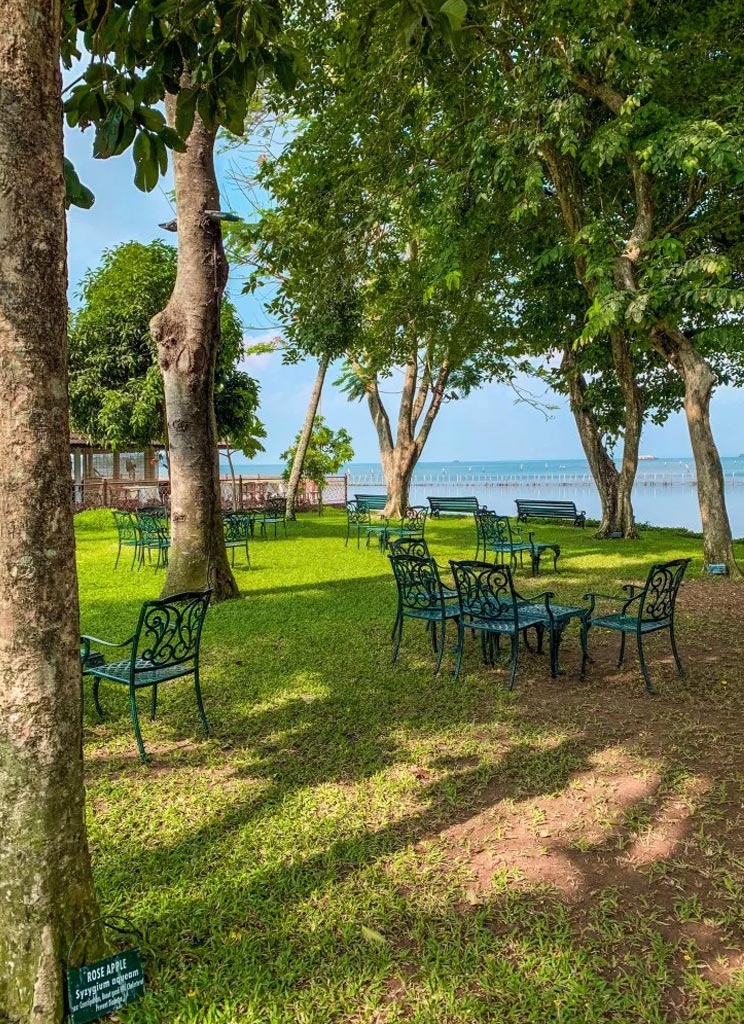 Buy Souvenirs
If you're looking for the perfect holiday gift whilst at Kumarakom Lake Resort, you can also purchase every kind of souvenirs imaginable from their very own Curio Souvenirs shop.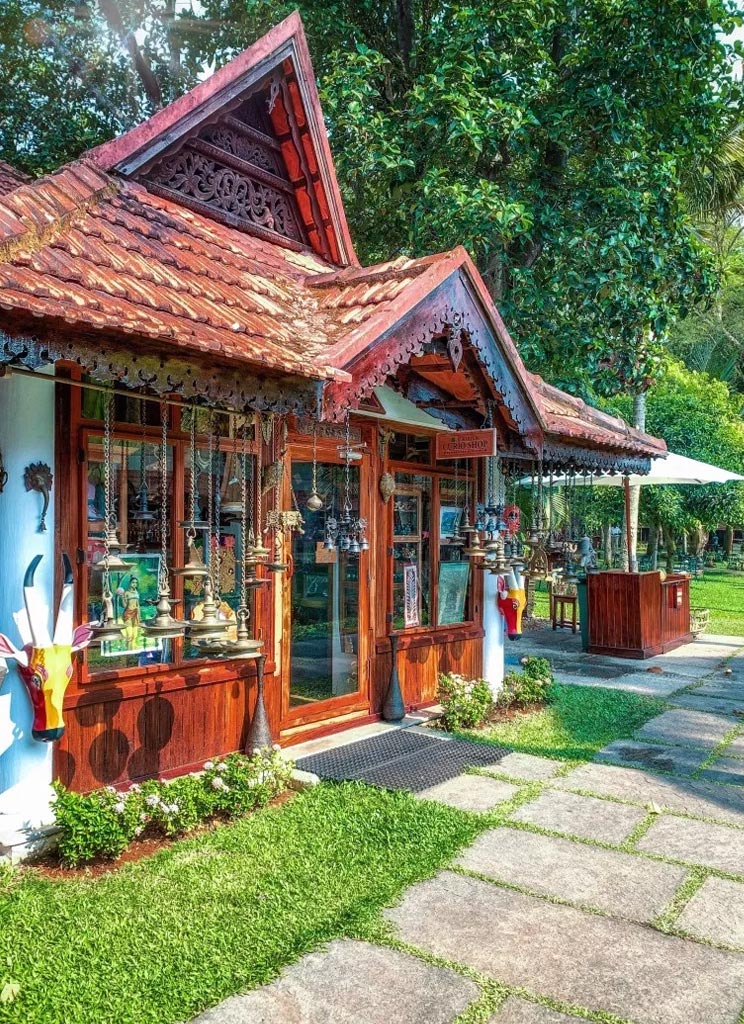 OTHER ACTIVITIES
Water sports
Visit Bird Sanctuary
Kotayyam sightseeing trip
Village walks
Watch Traditional Kerala dance drama & music
Billiard Game
Fishing
Learn pottery and weaving
We got to spend only one day in the resort and didn't have enough time to do everything because the list of activities are many. You will need minimum 3 days to enjoy everything that the resort offers. From the things that we were not able to do my biggest regret is skipping the pottery learning class. If you stay in the resort do participate. It does sound like a fun activity, right?
Food
Kumarakom Lake Resort has 2 acclaimed restaurants and 1 specialty bar. Ettukettu Restaurant, Pool Pavilion and Vembanad Bar. If you're a fan of sea food, drop by Vembanad, the Sea Food Bar.
During our stay we ate breakfast, lunch and dinner from Ettukettu Restaurant. The 115-seat restaurant offers an expansive multi-cuisine buffet which includes Continental, Chinese, Mughlai, North Indian and Kerala cuisine. There is something for everyone so expect all your favorites here. What's special about Ettukettu restaurant is that it was a Mansion commissioned by the King Marthanda Varma. It was dismantled from its original location and relocated at Kumarakom Lake Resort and converted to a restuarent.
If you're celebrating a special occasion or just craving a romantic night out, then you could also opt for a dinner at Pool Pavilion which is set on the banks of the lake.
Our Recommendation
Kumarakom Lake Resort is for those who hanker for that next-level honeymoon or romantic getaway. Kumarakom Lake Resort had everything I enjoy most about hotels - beautiful view, history, luxury, and a high level of service. From the moment we walked in, to the moment we left, the service by the staff was amazing.
Room rates starts at $200. Book your stay at Kumarakom Lake Resort.
This post was kindly sponsored by, Kumarakom Lake Resort however as always all opinions are my own. I only ever recommend brands and places that I personally love.
Thank you for reading.
Lots of love