5 Reasons Why You Need Ayurveda This Monsoon
Ayurveda which literally means knowledge of life, is the well-known healing technique learned and perfected thousands of years ago in India. This science of maintaining a perfect balance of mind, body and soul holds great relevance in today's world, providing solutions to 5 of your most pressing problems.
Detox
Over days and months you ingest toxins and pollutants that accumulate in your system. When this exceeds a certain level it gives rise to symptoms like allergies, body pains, swellings, depression and even auto immune disorders. Ayurveda attempts to mobilize the toxins in your body and eliminate them through channels of cleansing.
Boost immunity
Ayurveda boosts immunity with a special medicinal drink called 'Oushada kanji' which is prepared with herbs proven to enhance and strengthen the immune system.This taken along with the prescribed diet works to boost immunity.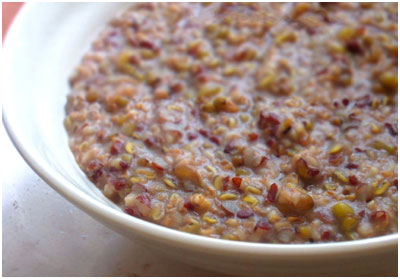 Oushadha Kanji. [PC : NatureLoc]
Rejuvenate
Ayurvedic massage therapies are well known and will improve circulation and increase oxygen and nutrient level in the tissues to rejuvenate and refresh the body. Body massage with medicated oil is the most important part of the treatment. The medicinal oil and kind of massage are customised and selected according to the physical conditions of the person.
Choornaswedam, Pathrapotalaswedam, NjavaraKizhi, Pizhichi, Sirodhara,Nasyam (nasal administration of medicines), etc are some of the most effective rejuvenating & therapeutic massage treatments.
Stay young
If you spot early signs of aging, Ayurveda is your one true answer. Ayurveda anti-aging benefits work on symptoms like greying of hair, dry and wrinkled skin, dark circles below the eyes, etc. The ongoing process of aging needs to be slowed down when the signs of physical and mental deterioration seem to commence. At this time, Ayurveda anti-aging treatments along with the right lifestyle, modifications of diet, exercise, and normal sleep could add years to your life.
Shed the flab
There are various Ayurvedic therapies that will help to shed the flab by breaking down fat deposits and toning the body.
Most Ayurvedic curative and rejuvenating treatments are more effective during the monsoon months.
A lesser known fact is that MONSOON is the best time to pursue Ayurvedic treatments.The human body is more receptive to Ayurvedic medicines in monsoon than at any other time of the year. The body absorbs anything applied to it, quickly and efficiently during this period.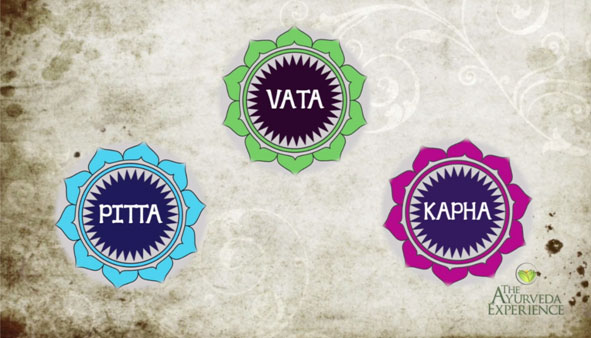 The Tridoshas. [PC : The Ayurveda Experience]
This is the season where physical immunity of a person is at its lowest and this low immunity leads to the aggravation of Tridoshas (loosely translated to Energetic Forces) namely vata, pitha, kapha. It is the ideal time to flush out all impurities from the body and bring back the immune system to normal.
This special use of the monsoon month (traditionally called Karkidaka) was noticed by ancient Ayurveda Acharyas and they suggested preventive and curative treatments for this season called Karkidaka Chikitsa.
These treatments are offered in their full authenticity at Kumarakom Lake Resort, Kottyam in Kerala from July to October.
Ayurmana at Kumarakom Lake Resort
KUMARAKAKOM LAKE RESORT
Situated serenely on the back waters of Kumarakom, Kerala has its own Aryurvedic healing centre & spa. Called Ayurmana , this heritage retreat pulsates with the powers of the oldest sciences. It is a 200 year old mansion that has housed the Chathamangalathu Mana, a family of renowned Ayurvedic practitioners. This exquisite mansion is set in enchanting surroundings on the banks of Vembanad Lake. You can detox & relax in sinful luxury with serene waters, plush greenery, and vast skies at your disposal.You can meditate under the shade of trees to the soothing sounds of a gentle breeze while the aroma of ancient herbs, scientific care and the healing hands work their magic on your body & soul.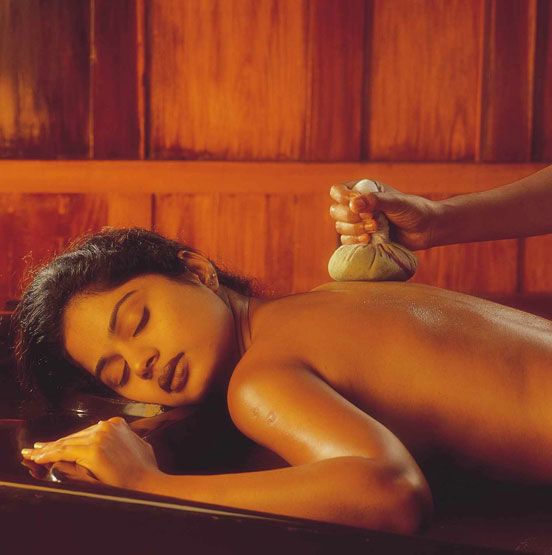 Rejuvenate your soul at Kumarakom Lake Resort
Kumarakom Lake Resort offers the utmost personalized care to ensure a soothing Ayurvedic retreat and spa vacation. From a pick up at the Kochi airport to a hassle free check in, the cordial staff defer to your comfort at all times. You will have a consultation with the Ayurvedic physician who will examine your health concerns, needs and discuss your health goals and then detail out a treatment plan to achieve these goals within a said time period.
Your treatment plan will be customised specifically for you considering all the relevant factors and will involve therapies in the mornings as well as evenings.
Ayurmana uses formulations made from natural, herbal and medicinal ingredients using ancient methods of Ayurveda. In special cases where rare medicinal preparations are essential, the formulation is custom prepared for that particular guest.
You will be served vegetarian Ayurvedic cuisine that is delicious, yet light and easy to digest. Diet requirements may vary upon the physician's recommendations. In specific cases where diet restrictions are suggested, the kitchen creates a customized menu adhering to the physician's advice.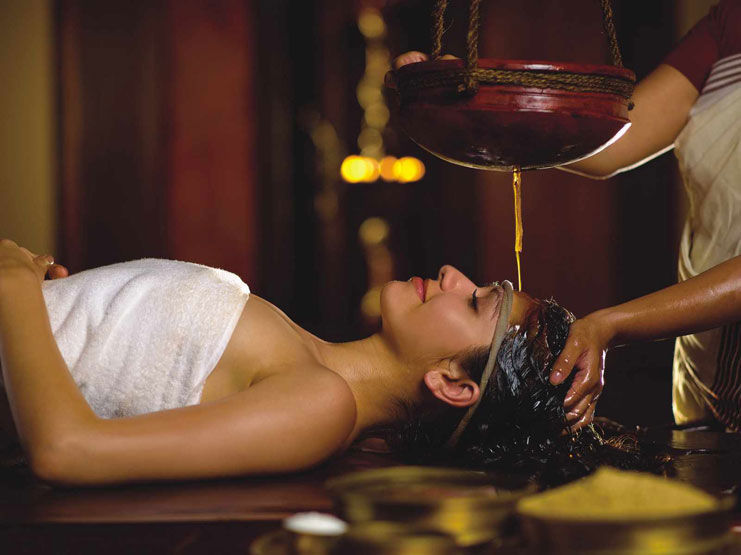 Your healing is our first priority. Take advantage of a customized healing regimen, just for you!
To further support your healing process Yoga and Meditation sessions are offered at Ayurmana by experienced masters of the field.
Make the most of this monsoon ayurveda season from July to October and book our special Ayurvedic packages at the luxurious Kumarakom Lake Resort right away!