Lake-Side Reveries by Karen Anand
I am at the Kumarakom Lake Resort on the expansive Vembanad lake after several years. It has been so long that I have almost forgotten what a revival tonic it is.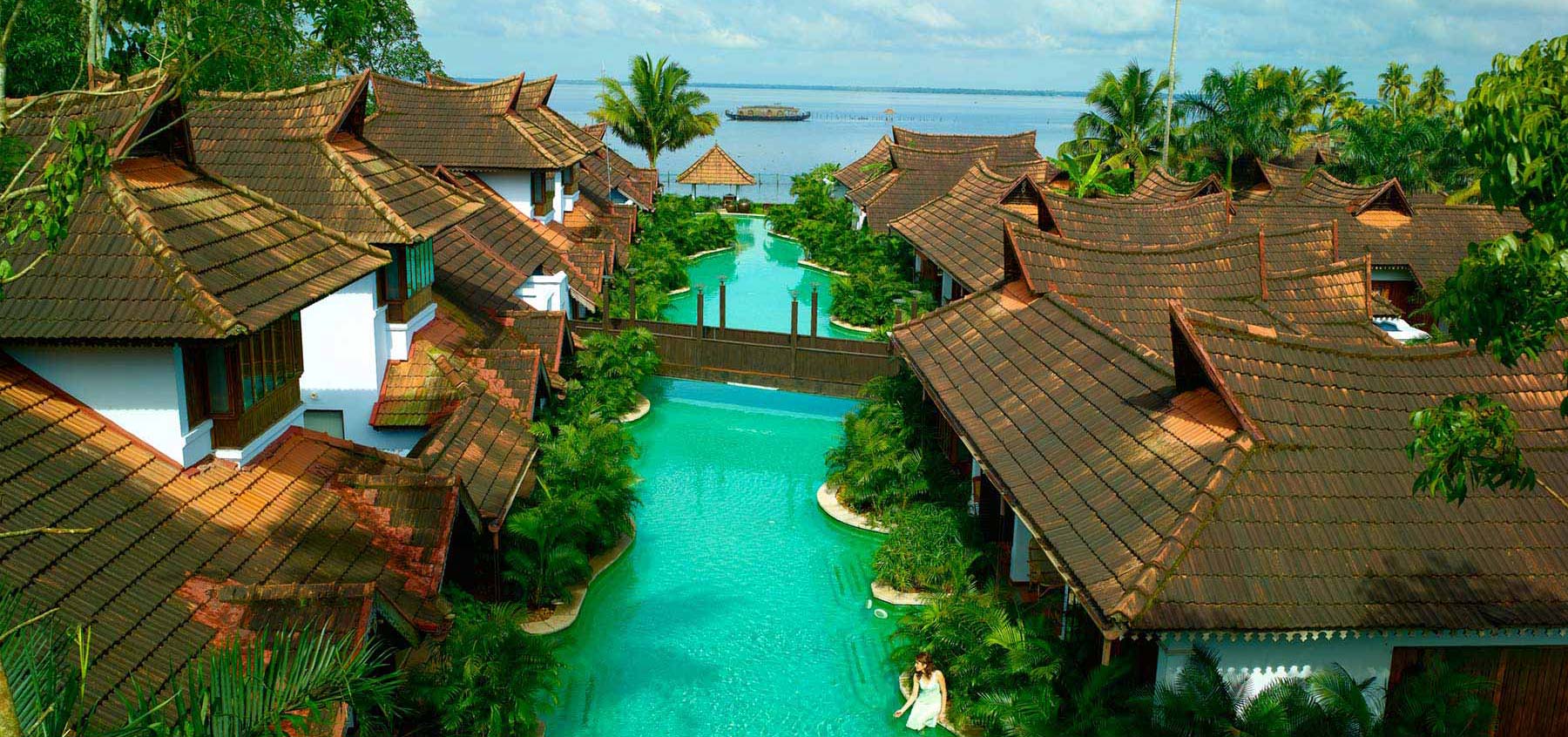 Meandering Pool Villa
Kerala has a mystical magic that seems to stand still in time. Unlike other tropical holiday destinations, like Goa or Bali, swamped by tourism and locals taking advantage of that, Kerala seems to have maintained a purity and sincerity. Even in resorts, everything moves as it should... slowly, prices are correct, and locals fall over themselves to help you.
I am at the Kumarakom Lake Resort on the expansive Vembanad Lake after several years. It has been so long that I have almost forgotten what a revival tonic it is. Monsoon, I feel, is the best time to be here light rain, cool breeze and warm sultry days and, most of all, few tourists. Well, I can't see them anyway.
I start with a patrapodala massage at the Ayurvedic spa... two girls doing synchronised oil application, gently pounding away with hot medicated poultices, which completely takes away any trace of flight fatigue. It is the way to start any vacation in Kerala. Soft-spoken Dr Liji Krishnan is there to make sure everything is properly supervised and I must say those thin little girls certainly have some strength in the elbows and forearms! Scrubbed, pummelled and poulticed, I shower and sashay down to the Vembanad seafood restaurant for lunch. There is nothing quite like a plate of hot, succulent squid, crispy podimeen (fried anchovies) and a glass of chilled Big Banyan rosé to lull you into that afternoon nap you rightfully deserve.
The next morning, we have our first taste of the backwaters in a partially covered "country boat". Slowly, slowly it meanders, past fields of fuchsia-coloured lotus so thick and profuse that you can't see the water underneath.
We are invited for Sunday lunch to a typical Syrian Christian banana leaf extravaganza at the ancestral home and farm of Jose Dominic, head of CGH Earth hotels. Jose is probably the first hotelier in India to talk about sustainable tourism and responsible luxury in the world of hospitality. With several professionally managed hotels all over the south, his passion has now turned to farming — medicinal white turmeric, rubber trees and miniature cows!
Back at the resort, we enjoy a series of red rice and fish curry lunches and dinners, which make me ask chef Deepak to show me how to achieve the silky smoothness, the smoky sourness and slightly sweet top note of their amazing fish dishes.
One morning in the poolside cafe overlooking the lake, he shows me his version of Karimeen Pollichathu, an amazing dish from the famous backwaters. Pearl spot (fish) is smothered with masala and juice of the dry sour kodampuli, grilled and then cooked in a banana leaf. A fabulous fish curry followed and then appam and vegetable stew… nothing could be more simple and more satisfying. His recipe just uses the bounty of spices you find in Kerala with fresh coconut milk and vegetables. I'm tempted to say that this dish had some colonial influence — Dutch, Portuguese or British, since they all at one stage occupied Kerala.

Houseboats
On a Slow Amble
The next day, we took a proper houseboat from the hotel — a luxury kettuvallam with air-conditioned bedrooms, spotless bathrooms and a dreamy deck with planter's chairs. It's the equivalent of a slow amble. The boat also comes along with service and a boatman. We stop at R Block, a section of the backwaters with small toddy shops (The pot is left on the tree for the toddy to ferment, so the later you go, the more potent it gets). I had been to R Block several years ago, when there were just huts and simple outdoor makeshift kitchens. Due to the influx of wealth from the Gulf, every family in R Block has now constructed a proper house. The food, thankfully, hasn't changed — a little on the spicy, rustic side compared to the genteel sensitivity of resort fare but worth trying once.
I was sad to leave the lush Kumarakom Lake Resort but all good things must come to an end... on the way back to Kochi we stopped at what has now become a pilgrimage of sorts… the busy and buzzing LuLu Hypermarket in LuLu Mall. It's like Singapore on steroids. Thirty check-out counters, all teeming with people, rows and rows of outstanding Indian produce and an amazing conveyor belt machine churning out fresh kuboos (Arabic bread) by the minute. I have to exercise restraint... and pick up only spices and masalas and, of course, jaggery-coated banana chips.
If you want a complete break, an absolute chill pill in pristine surroundings, then Kerala and in particular the Kumarakom Lake Resort is the answer.
Dig Into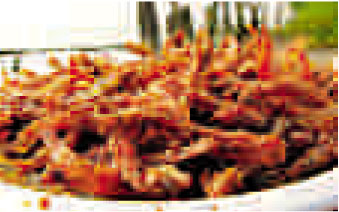 Crispy Podimeen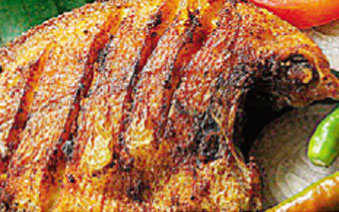 Karimeen Pollichathu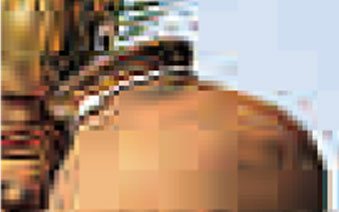 The pot is left on the tree for the toddy to ferment
Karen Anand is a culinary consultant, food writer and entrepreneur. In recent times her name has been synonymous with farmers' markets. Follow her on www.facebook.com/karenanand